Next month, in April, I will be stepping down from my role as Executive Director at ILDA. It has been a long journey, ever since ILDA came into being as a research project 10 years ago.
After our recent meeting in Buenos Aires, ILDA will assume a new form. On the one hand, its Assembly will formally integrate several organizations that have collaborated with ILDA since its inception and have participated in the various annual Abrelatam conferences. On the other hand, ILDA will also integrate outstanding colleagues who have worked with the organization throughout its existence. In turn, ILDA's Board of Directors will have two new members. New leaders will take the helm and will focus on continuing data governance work, as well as connecting this issue with the crisis facing our democracies. In addition, the new leadership team will bring new ideas and new challenges, and I am excited to see how this new version of ILDA evolves. Stay tuned.
ILDA was not the most obvious project for me to undertake in terms of my professional career. Let's say one thing led to another and I ended up taking the road less traveled. A path without guidelines, on the border. From my hometown of Maldonado, Uruguay, to my adventures as a student, then a consultant, to a small (and crowded) ivory tower laboratory in a corner of London, my path has taken me to offices, conferences, cafes, bars, co-working spaces, and colleagues' homes all over the Americas. I have gone from being an academic wanna-be interested in obscure (although occasionally interesting) texts to an all-purpose "expert" in project management, administration, and development, a Twitter user, and, occasionally, a doorman at international conferences. Anyone who has founded an initiative, private or public, does all this and much more, though they may not wish to admit it.
It is impossible to summarize 10 years in 2,000 words, in an era when people barely have the patience to read 140 characters, if they read at all. Let's call it what it was: an emotional roller coaster. I experienced the excitement of being able to build bridges with others to do work that had an impact. The excitement of helping to connect hundreds of people in Latin America to each other. The excitement of working on the ground in places as different as Montevideo, Mexico City, Santiago de Chile, Bogotá, or La Paz. Connecting, understanding, and trying to foster a Latin American vision of an emerging and vital field of work for our continent. As I always said, far from being a technical agenda, open data in Latin America means being involved in social causes, in discussions about transparency, inclusion, and justice issues. This social mission made ILDA a sounding board for Latin America's own agendas and movements, and not just a technical forum. And ILDA, especially at its conferences, connected people and created spaces where they discussed, laughed, cried, and shared, all of which helped to nurture our common humanity.
Let me share three things I learned from my experience leading ILDA. The first—obvious but always necessary to remember—is that no person or organization is an island. ILDA came to life and developed thanks to its team and the people who collaborated with it. Building bridges was perhaps our greatest virtue and, occasionally, a headache. But when I have an opportunity to build bridges and generate synergies , I will always seize it. No one can effect significant change in solitude. And I was only as good as the team we were able to build over the years, and only as good as the people who supported ILDA from many places.
The second lesson I learned at ILDA was humility. Academic training (except for honorable exceptions) does not prepare one to be humble. Nor was I naturally endowed with this personality trait. Reality, on the other hand, is a machine for forming and strengthening humility. Reality shows you why your hypotheses do not work. I have been in situations where I realized that what I wanted to do really wasn't possible and that there wasn't much that could be done. Even with the best intentions, resources were insufficient. Listening and understanding were valuable contributions. Admitting mistakes and defeat opened the door to new possibilities. Much of this learning occurred thanks to the feminist movement and to my female colleagues who opened my eyes to different realities. And much of it was also thanks to the hundreds of people we interacted with who navigate the world of public policy, data, and technology. There is a third lesson, which I invite you to read at the end of this post.
In my experience, there is no way to truly know the reasons behind our choices. Our conscious and rational mind certainly plays a role, but so do our past, the pasts of those who came before us, our unconscious, our circumstances, and often luck. Ten years ago, I was halfway through my doctoral studies in the United Kingdom and had co-founded an organization in Uruguay working on data, civic technology, and development. I took on several consulting gigs to help pay the bills and these led me to work closely with various organizations to explore whether the concept of "open data" made any sense in Latin America. This eventually led to a coffee chat with several colleagues in Santiago de Chile at a meeting of a CEPAL project. We agreed to organize a regional conference on this topic, and the (brave) government of Uruguay offered to host it. In the meantime, we organized the first "unconference" in Latin America, Abrelatam (but that's another story). A beer and coffee with Fernando Perini led to an initial proposal. Many emails later, after a workshop organized at the London School of Economics and Political Science, and a lot of coffee, ILDA came to life. The rest, as they say, is history.
What follows here is a small and partial account of my experience during this time, the reasons that led me to undertake this project, and my thoughts on where we go from here.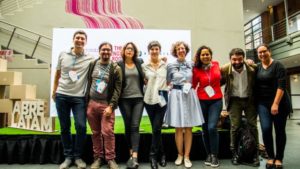 ILDA : The first generation
The first iteration of ILDA was made possible thanks to the support and vision of Fernando Perini at IDRC and the Avina Foundation, led at that time by Marcio Vasconcelos and Lucia Abelenda. I drafted the proposal between July and September 2013 with the support of the above-mentioned colleagues as well as support from Maria Trigo and Mike Mora of the Organization of American States (OAS) and Javier Patiño of CEPAL. At that time, ILDA was an experiment to see whether we could form a community of people working on data openness in Latin America. On the one hand, we sought to empower researchers at the regional level and identify pilot projects. At the same time, we needed to explore how and whether governments in the region could adopt open data policies and whether such policies would genuinely serve the region's interests. It was a multi-actor alliance seeking to understand and catalyze the work agenda.
Many individuals and organizations helped catalyze the activity that expanded the open data agenda in Latin America. Through the work of these organizations, many countries began their journey to develop open data policies, and in less than two years, the region had an impressive number of projects and activities. During this stage, ILDA served as a hub for building a community of practice and became the de facto custodian of Abrelatam-Condatos. Lucia Abelenda at Avina, Ana Sofía Ruiz at Hivos, Arturo Muente at the IDB, and other colleagues also recognized the need to support this process and became pillars of the emerging community. Data, Fundación Ciudadanía Inteligente, and Social Tic played a strategic role in contributing and encouraging the emergence of the community, as did our colleagues at the OAS and ECLAC on the public sector side. This process, while at times crazy and chaotic, laid the foundations of the Latin American community working on this issue.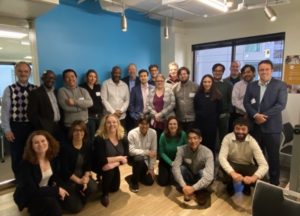 ILDA: The Prototype and its Institutionalization
A community of practice with a mission to include more and more people in the region began to take shape. Through ILDA's various projects, it became evident that ILDA could act as a Latin American representative in various spaces and agendas, including public procurement, budget, gender, open data policies, civic technology, and in all those areas giving voice and visibility to Latin America. Projects supported by ILDA, such as atuservicio.uy and Cuidando do meu barrio, were recognized internationally (both are still operating).
By 2017, it was evident that  ILDA needed its own structure if it wanted to continue experimenting and working on an increasingly comprehensive and flexible agenda. Felipe Estefán at the Omidyar Network (now Luminate) provided invlauable suppport for creating this structure, as did Lucia Abelenda at the Avina Foundation. Felipe collaborated fully, helping to devise a structure, laying the foundations, and identifying talent that would be crucial for ILDA in its new stage. Ben Petrazzini at IDRC contributed his extensive experience to develop the nascent institution. Thus, ILDA hired its Director of Operations, Ana Sofía Ruiz, who had been one of the pillars of the field, and its Director of Research, Silvana Fumega, who had participated in much of ILDA's work, in addition to being one of my long-standing professional collaborators and friends. Juani Belbis, one of the founding researchers, brought expertise in community and communication matters. This team established a synergy that would be key to the organization's successful growth.
A Board of Directors was also defined, composed of Gonzalo Iglesias, Lucia Abelenda, and Juan Pablo Guerrero, with the initial collaboration of Ben Petrazzini from IDRC and Gabriela Hadid from Luminate. A group of researchers, including Javiera Atenas, Carla Bonina, Gisele Craveiro, and Juan Pane, were the founding partners, along with the support of several organizations in the region. Daniel Carranza, Juan Casanueva, and Pablo Collada served on ILDA's Finance Committee. ILDA began its first formal interactions with the Inter-American Development Bank and Hivos, among other key allied organizations.
Achieving the vision and promise of the open data agenda remains an unfinished task in Latin America, an agenda increasingly influenced by the development of AI. However, in the areas where ILDA has a presence, the open data agenda has always been a gateway to address the fundamental issues of transparency, equality, inclusion, and development facing our region. Technology is one means, but the most important thing remains the people involved in these processes.
The third lesson: gratitude
The third lesson I take away from my ILDA experience is gratitude. And here I will elaborate a little. First, I am grateful to those who trusted ILDA on several occasions. Fernando and Ben at IDRC (along with their administrative teams, Annette, Selva, and Adriana) pushed to see ILDA born and supported it at different times and in various places. Without Fernando's support and vision, Ben's good advice, and IDRC's institutional commitment, ILDA simply would not exist.
I am grateful to Felipe for his vision, support, and advice, which Gaby at Luminate has continued to provide. Felipe had the strategic vision to see that ILDA could help consolidate a community of practice and, to achieve that, needed to be an organization. He also had great patience with ILDA's fledgling Executive Director. In the same vein, Gaby provided advice to improve ILDA, and connected us with allies who would prove crucial to our work.
When setting up an organization, it is essential to have a good Board of Directors, and ILDA had an excellent one. Gonzalo generously lent his support to the new institution and contributed his experience, expertise, and, above all, his bonhomie and integrity. Lucia was key to the institutionalization of ILDA. She contributed valuable strategic thinking, based on her knowledge of the region and her search for synergies with other processes. Juan Pablo risked his good name on this venture, always gave accurate, measured advice, and offered deep analysis of what we were doing and why we were doing it. All the directors took good care of ILDA (and of me) on many occasions and worked to ensure ILDA remained safe and on the right track.
The first ILDA team was crucial to its consolidation. Silvana contributed her leadership, technical capacity, and friendship. She put ILDA on the regional and global map with her great work. Ana Sofía contributed her determination, creativity, and drive to consolidate our organization and lead initiatives that allowed us to think about our future, push us to realize creative ideas, and sustain our community in very uncertain times. Both demonstrated their enormous solidarity, generosity, and commitment to ILDA. Juani set us on the right strategic communication track and also inaugurated our successful podcasts. I am deeply moved by and grateful for their work and dedication.
Arturo Muente was a key figure who helped us to understand the Inter-American Development Bank (IDB), and helped the IDB to understand us. Arturo and his team, among whom I must mention Florencia Serale, had enormous patience with a young researcher who became the director of this organization and showed much generosity. Their always fresh and innovative ideas provided new perspectives to the region and a crucial link with the IDB. Robert and Nat, curious, confident, and very professional, were key in developing our cooperation on data concerning femicides that still has an impact on our work today.
María and Mike at the Organization of American States (OAS) were great counterparts for translating our work to governments. With diplomacy, sensitivity, patience, and a lot of drive, they were key to the birth and sustainability of the open data agenda. Alonso and his team at the Open Government Partnership (OGP), with their good humor and eye for opportunity, were also crucial through their action plans and the events we co-organized.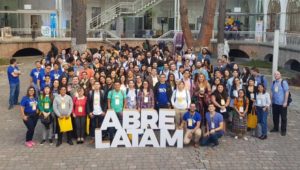 I am grateful to all those who organized Condatos-Abrelatam during these past ten years and with whom we interacted at length to make the conferences a reality. I note especially the teams of the following organizations: AGESIC, Data Uruguay, Ciudadanía Inteligente, Social Tic, Presidency of Mexico, SEGPRES, MINTIC, Somos Más, Abriendo Datos Costa Rica, Hivos, Presidency of Costa Rica, Ministry of Modernization, Open Knowledge Foundation (Arg), Democracy en Red, Wingu, Presidency of Ecuador, Fundapi, Government of Panama and Ipandetec, Government of the Dominican Republic, TIC Chamber, and obviously to the teams of the OAS, OGP, and ECLAC in their different incarnations. There is simply not enough room in one post—or perhaps in one lifetime—to recount all the work that went into making these events happen.
I am grateful to several colleagues whom we met along the way: Enrique Zapata of the Development Bank of Latin America (CAF) helped to advance the open data agenda in Latin America; our colleagues in the International Open Data Charter, particularly Nati Carfi for her contribution and leadership; Gabriela Rodríguez, who besides listening and teaching, was always generous in advancing gender issues in the region; and all the researchers who collaborated in our projects during these years, without whom ILDA would not make sense, such as Carla Bonina, Gisele Craveiro, Javiera Atenas, Juan Pane, Juani Belvis, and the partner organizations in several projects. With them, we fulfilled ILDA's mission, had fun, and creatively solved problems.
Finally, I am grateful to the latest iteration of our team, which includes Violeta, Maria Esther, Carolina, Cristina, Danilo, Ana Gabriel, and Hassel who have worked so hard, with great joy, to expand the horizons of ILDA; to the organizations (and their teams) Data, Ciudadanía Inteligente, Abriendo Datos Chile, Abriendo Datos Costa Rica, Fundapi, SocialTic, DataSketch, Democracy en Red, Open Knowledge Foundation (Brazil), and Ipandetec for collaborating with ILDA on various projects and placing their trust in us; to the team of Avina, Gloria, Tarick, Sara, and Joice, who are incredible allies in our work; to all the organizations and their leadership teams that have been partners in this adventure; and, last but not least, to my family, friends, my ex-wife, and my son who sailed these seas with me and offered their support in various ways throughout this uncertain, exciting, and challenging time.
Is it time for me to go? There is never a perfect moment. There is always something that can be made better. Actually, as I mentioned at the beginning of this post, we never really know why we make certain decisions. However, a few months ago, I let the Board know my intention to retire once the ILDA project reached its 10th anniversary. I had some ideas, other proposals, and the need for change. Sometimes, moments just arrive. All people change, or at least have the opportunity to do so. I feel that ILDA is ready for another stage, which requires new leadership. Ten years is a very good number, and for those studying public policies, it's a sort of informal rule of cycles. The Board understood and set in motion a succession process about which it will inform us shortly.
Naturally, establishing this kind of project has some personal implications. I have gained great friendships (and possibly some enmities). My ideas remain firm, and my methods have improved. If you are among my detractors, I hope you will get to know a better version of me in the future. 🙂
All credit for ILDA's achievements goes to the team with whom I've had the good fortune to work, while responsibility for any and all mistakes should fall on my shoulders alone. I have had strong personal and professional learning experiences, and there will be time in other spaces to share about them. Latin America needs more leaders and organizations that work in these spaces, in the current uncertain and somewhat dark times, and if I can contribute to those who undertake these challenges, I will always do so. ILDA has been a central part of my life, of who I am, of what has been created in the community, and in that spirit, I will remain at its disposal so that it continues, and I will serve on its board in an emeritus capacity. I will continue to seek new frontiers, building bridges between well-trodden and less-trodden paths. Ultimately, I will continue to be who I am, with my strengths and weaknesses, transformed and moved by my passage through ILDA and its people.
See you on the road.