S. Fumega, G. Rodriguez y F. Scrollini
Women suffer different types of violence in Latin America. In particular, femicides are one of the main problems, in number and impact, on our families and communities. But, we do not really know how to record these phenomena to make them visible and, consequently, to design policies for our societies. Nor do we know whether technology and data can actually intervene efficiently and effectively to solve one of the greatest challenges facing our societies.
In an earlier post, we explained that our program seeks to explore how civic technology tools and the use of open data could contribute to prevent, better understand and, eventually, act on the phenomena of violence against women. To take the first steps in this direction, a workshop was held in San José, Costa Rica, prior to the V edition of Abrelatam / Condatos.
With the participation of professionals from the areas of ​​security, gender, as well as civic technology (we would like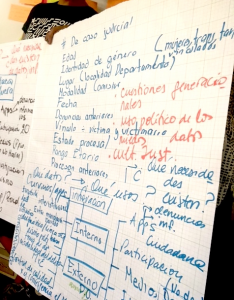 to thank them all for their generosity and willingness to share their opinions and knowledge), we address two key issues:
1.Standardization of data as a way of catalyzing action; and
2.Development of specific pilots focused on usability (design sensitized to the theme and considering the perspective of those who suffer violence) and sustainability.
Standardization of data as a way to catalyze action
There is a strong consensus on the need to standardize the collection and publication of data on femicides. This standard should be designed under the following criteria:
– It should be based on the needs identified by those who participated in the workshop and an expanded community of experts;
– It must have an iteration mechanism that allows the feedback and its improvement, after its implementation, in an agile way;
– It must be designed in a way that technologically allows its adoption by any platform or technology;
– It must be licensed openly for the purpose of promoting its dissemination; and
– It must take into account existing legal frameworks and practices, in order to be inspired by them, to promote their iteration.
It is fundamental to understand that standardization must occur with an explicit theory of change behind. The standard should also help to create, energize and organize a community that can use data to solve the most complex problems that the agenda presents. Moreover, it should be conceived as a first step in this direction, with associated communication and action products.
Development of specific pilots focused on usability (design considering the perspective of those who suffer violence) and sustainability
In Latin America there have been several experiences trying to use civic technology to solve problems of gender violence. In particular, the use of the panic button and the report to personal support networks, have been some of the characteristics that these applications have presented.
According to the evidence, these experiences register problems of usability and sustainability as well as many times of security and privacy. On the one hand, most applications or uses have not been developed with the essential involvement of affected communities, particularly women. On the other hand, although there are attempts in this sense, in general, these initiatives end up being unsustainable in time and, after a while, they are forgotten.
Added to all this, we do not have clear indicators about what is considered a successful intervention. Consequently, at ILDA we believe in the need to conduct pilots by exploring:
– The need for a technological intervention and the rationale (theory of change) behind it;
– The inclusion and formalization of co-design processes with key communities in the implementation of a policy to combat violence against women, with a strong focus on the inclusion of users; and
– The need to take an iterative and modular approach in this process, as well as to openly document the learning process in a relatively controlled and safe framework.
These two will be the lines of action that ILDA will promote from its gender, data and security program. A full report of this event, produced by Silvana Fumega, Gabriela Rodríguez and Fabrizio Scrollini will be promptly shared on our website.
Meanwhile, do you know examples of work on these topics? Do you have ideas that you think we should know? Let us know via twitter to @idatosabiertos or to our mail contacto@idatosabiertos.org